Where are you located?
Our clinic is an easy drive from Spokane, Liberty Lake or Ceure d'Alene, conveniently located two blocks north of Sprague at 210 N. University Rd Suite 200.  From Spokane, drive East on I90 for 5 minutes and take Appleway exit, drive to the end and turn left on University Rd.  You may also exit on Broadway and drive east to reach University Rd and turn right.  From Spokane Valley drive West on Sprague until you reach University Rd and turn right.
Do you have free parking?
Yes, hassle free parking is right in front and a handicap space is available.
Is your clinic ADL accessible?
Yes, the building, bathroom and treatment rooms are all ADL compliant.
Do you accept insurance?
Yes, we accept most major insurance plans including TriWest.  We recommend that you contact your insurance provider and confirm that acupuncture is a benefit under your plan.  Some insurance requires an MD referral and preauthorization.  You may be responsible for a co-pay.  When you call to set up your appointment we will ask you for your policy number and birthday in order to reconfirm these details and provide your insurance carrier with additional required information.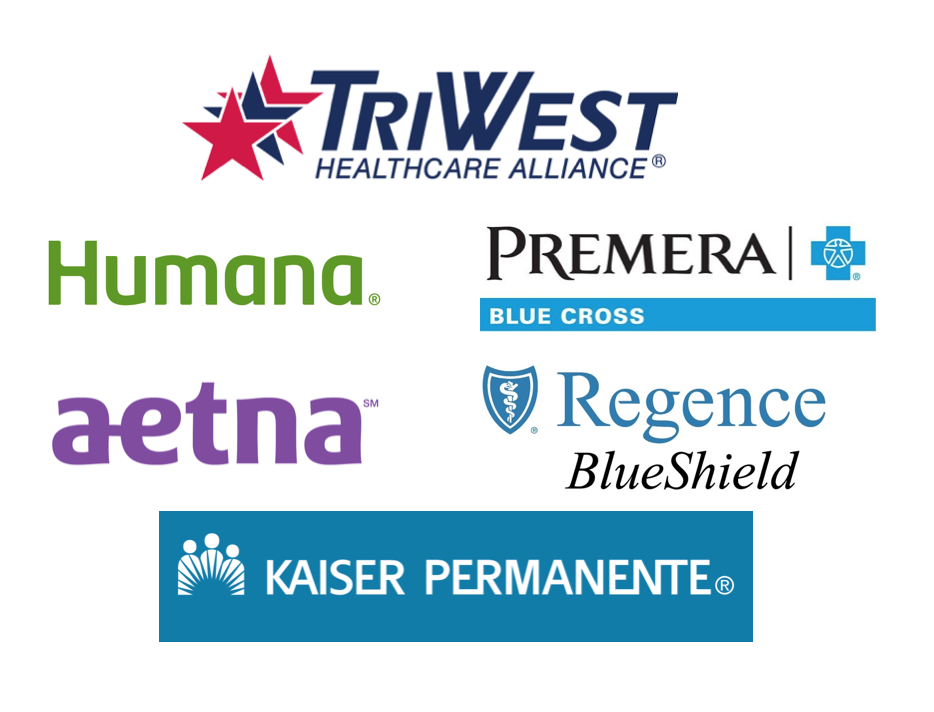 What happens during my first treatment session?
When you come in for the first time you should allow extra time to complete initial intake forms with pertinent health information.  A consent to treatment form is required as well.  Your acupuncturist will perform an examination/evaluation to determine your diagnosis according to the principles and philosophies of Traditional Chinese Medicine.  Wear comfortable clothing or bring a change of clothes.   Your initial visit will be 75 to 90 minutes and follow up visits will last 30 to 60 minutes depending on treatment approach.
What can I expect to feel from my first acupuncture treatment?
Everybody experiences the effects of acupuncture a little differently.  Depending on the type of problem being treated, some people might start to notice the benefits almost immediately, others may feel a difference a few hours after the treatment, and some may need a few treatments before they start to notice an improvement.  Some people become very relaxed while others become energized.
Is acupuncture painful?
Many people report that acupuncture is painless.  The needles are as thin as hair, but occasionally patients feel a slight sensation of soreness, heaviness, electrical tingling, or distension. These sensations are minimal and only last a few seconds.  You should be aware that acupuncture can cause drowsiness in some people and minor bruising or bleeding can occur in 3% of patients.
How many treatments do I need?
This depends on the nature of your complaint, the severity, and the time since onset.  For acute conditions, as little as one treatment may relieve your symptoms.  Chronic conditions often require a series of 6-12 treatments or more.  Some degenerative conditions may require regular treatments over a longer period of time.  Finally, one session a month is recommended to maintain overall wellbeing.
What should I do before my acupuncture treatment?
It is best to wear comfortable and loose fitting clothing.  Try not to arrive to your appointment while excessively tired, upset, hungry or thirsty.  Allow up to 90 minutes for your initial visit and up to 60 minutes for follow up treatments. You want to feel relaxed and not rushed so remember to arrive on time and not schedule other commitments too close to your appointment.   Also, please do not use alcohol or drugs prior to coming to your appointment.
What should I do after my acupuncture treatment?
After your appointment you will likely feel rested and relaxed.  Avoid excessive physical activity, stress, and the consumption of alcohol or caffeine for several hours after your treatment.  Please note any changes in symptoms as they may be subtle but are important feedback for your acupuncturist.
What is your cancellation policy?
Cancellations accepted by phone 24 hours ahead of scheduled appointment.  Same-day cancellations may result in a cancellation fee equal to one full treatment charge.
Do you have gift cards?
Yes, gift cards are available to purchase in the clinic or click here to purchase a gift card online.  Give the gift of health and wellness and remember to ask about our maintenance and wellness plans.